A few people tweeted links to this brilliant collection of packaging redesigns by Antrepo — they're done as an exercise to illustrate the idea of reducing the design of the labelling to its simplest form, while also showing an intermediary step of a 'partially simplified' design. It's interesting the effect it has on the different products. Some gain a sense of being a premium, high-value product, while others start to resemble economy, basic versions. The Pringles packs look pretty basic; with the full-colour printing gone, the basic nature of the cardboard tube stands out, and with the simple black printing it looks like a supermarket own-brand or something bulk-bought by caterers. On the other end of the scale you have Nutella and the Schweppes drinks — both of them look like the kind of 'artisanal' packaging you'd see featured on the Dieline or similar targeted at people who want the same old stuff but to feel a bit special about buying it. And having said that, the Corn Flakes one is just great. It's absolutely perfect — if I ate cereal then packaging like that would definitely have shelf appeal with that beautifully simple and stark lettering, and how. It reminds me a little of the General Mills Kix packaging, which I also like a lot.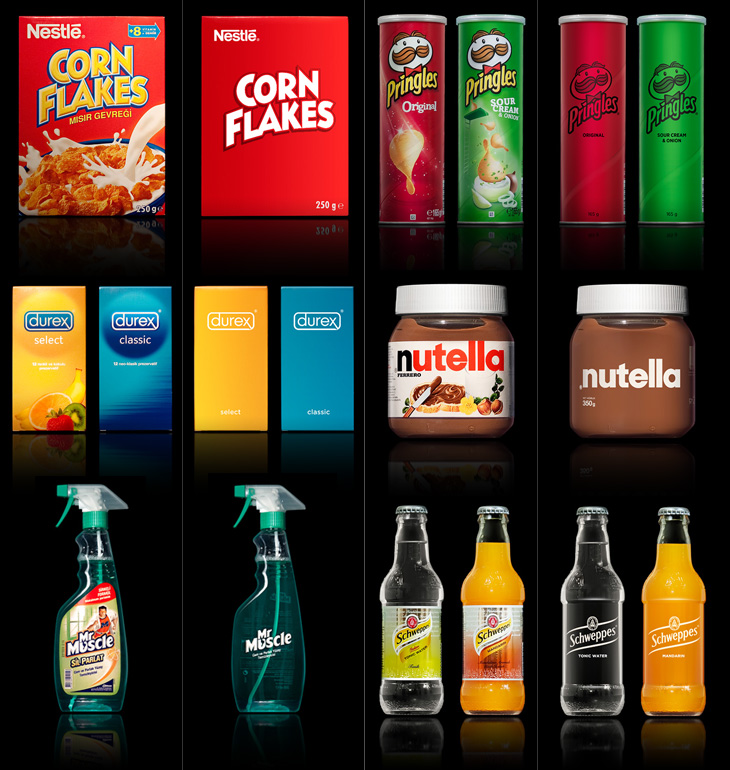 Visit Antrepo's site for more info and links to the full set.
Of course, packaging for most fast moving consumer goods is brightly coloured and covered in imagery for a reason — it's to draw the eye and make its purpose, contents or intended use immediately obvious to the shopper. Without going into some kind of pop-psychology analysis of consumer habits, it's interesting to think what the manufacturers are intending with each package. The simplified Mr Muscle one looks great, but on the original you can easily tell it's for windows and tiles even without reading any of the words. Similarly for the Durex boxes, I'd hazard a guess and say the orange box contains flavoured ones — the word 'select' hardly makes that clear — again, the original packaging wins out.
The food ones all have some kind of serving suggestion (albeit a ridiculous one in the case of the Corn Flakes, I mean, that's quite a tempest going in the bowl) designed to put the image of the food in your mind, a simple association that makes you more likely to buy it. The only one I think where that doesn't happen is with the Schweppes bottles. The type is pretty small on the simplified one, but it's a hell of a lot more legible than the original. Given that you're likely to see bottles like these in a fridge behind a bar, you're going to be hard-pressed to read the label and form an idea in your mind that maybe you'd want mandarin as the mixer in your drink, as opposed to orange juice, say. You're going to look and see confusing labels all done up with sparkles and images of bubbles, and not know if it's soda and plain old OJ in them or something more special. You'd just end up asking for something generic, and end up (in a lot of British pubs at least) with some rank pre-mix out of a tap on the bar. I could mention at this point that Red Bull might be considered drinkable by some, and therefore a food. It's not, but it is easily recognisable in a behind-the-bar fridge, which tells you something about British pubs and the drinking culture they encourage, but that's an entirely different rant.
So yes, beautifully simple packaging is a wonderful idea, but I doubt we'll see many big manufacturers opting for it, sadly.