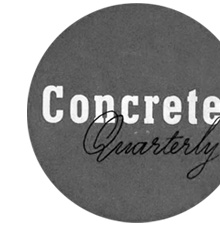 It's been around for millennia, but concrete is a building material that pretty much defines the architecture of the modern era. The reconstruction efforts after the second world war really got the world interested in concrete in a big way — it allowed for rapid, economical construction of vast numbers of apartments, factories, malls, roads and more, and made tall buildings commonplace.
Of course, while not exactly a new building material, the uses we put it to often were. We know all too well the grey, crumbling monoliths, the remains of ill-conceived and badly built projects blighting our cities and towns, but too rarely do people celebrate the truly wonderful concrete buildings we have — from cathedrals to offices, shops and homes to soaring bridges, roads and basic utilitarian buildings, it's an incredibly flexible and often beautiful building material. This is, I guess, what the Concrete Quarterly was designed to highlight. I've only read some of the earlier editions, but right from the first issue it talks of the diversity of uses of concrete; bridges, home developments and motorways all built with the stuff. Perhaps this variety is what's influenced the design of the magazine over the years. Not until the 60s does it gain any kind of design consistency — in the 50s barely three or four editions are alike. Not that that's really a bad thing, as some of the early covers are just gorgeous: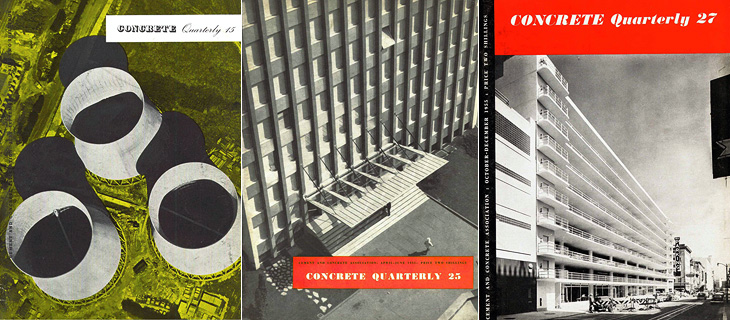 I was browsing through wondering if I could spot any familiar projects, and lo, in the Winter 1962 issue there's a cover article on Coventry Cathedral, one of my favourite buildings, which I've written about before here.

Even within the same issue the headline styles vary considerably, and sometimes even the body type too. It makes for a slightly odd effect, but on the whole I think it works — it all ends up being rather charming. This one is wonderful on so many levels. Belgian Roads! What a subject!

It's worth having a look through the archives as there are many beautiful photos in there. I was delighted to see some photos of Liverpool Cathedral, which I visited many years ago and loved right away — I gather it's not really all that popular locally but I think it's great. Perhaps I just like anything with lots of stained glass in it.