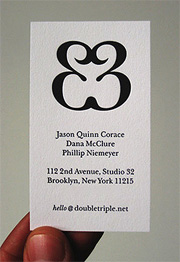 Phillip Niemeyer of Double Triple kindly wrote to explain who that VA logo was for:
I checked my own photo archive of the archive and found the VA business card. VA stands for "Ike Vern & Associates, Photography". Much of Lubalin's great graphic work seems to have been simple jobs for small clients. I love that.I posted the VA image, a tissue in Lubalin's handwriting specing a logo, and a unique logo for the World Trade Center.http://www.doubletriple.net/lubalinPhillip Niemeyer
Technically this is an update to this earlier post, but I wanted to create a new one because I rather like the Double Triple logo, at right - a mirrored '3' in ITC Baskerville.