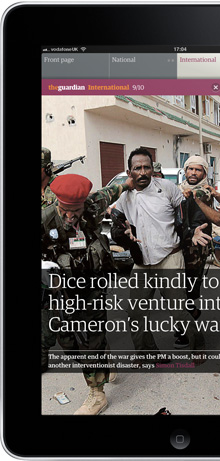 The Guardian now has an iPad app. Previously if you wanted to read Guardian content on an iPad you could read the website, use the iPhone app or attempt the Digital Edition. I used to subscribe to the Digital Edition, a downloadable PDF of the paper (now with an online viewer) in exactly the same form as it was printed. By the looks of it, it's much improved these days. I cancelled my subscription fairly quickly, because while it was good for reading some articles, seeing things like "continued on page 5" with no hyperlink felt weird, and some of the diagrams in articles had text on them which at the resolution the PDF was created at was unreadable. I complained about one issue like this and was sent a jpeg of the graphic at a higher resolution. Great customer service but it never seemed a scalable or sustainable solution.
So last year the Guardian did a survey of its iPhone (and presumably web) users asking what they'd think of an iPad app, and how much (if anything) they'd be willing to pay for it and/or a subscription. I figured that if they did it well, it could be revolutionary. The iPhone app was (and is) so good it still stands as a reference guide for how to do a content-driven app well. If the iPad app was as good, then it'd be great.
I've used a fair few magazine and news apps for the device and they've all been a bit of a let-down. As it's the first mass-market tablet the iPad presented a new and unfamiliar environment to design apps for. Some went down the fill-it-with-crazy-interaction route, others down the scan-our-printed-edition route, most sort of somewhere in between, but nothing really felt natural to the device. It takes time to learn about the new medium rather than simply adapting what went before.
I think the Guardian app is mostly there. There are a few things that I think 'hmm' at (well one thing, the issues list), but it does what it's designed for and is a pleasure to use. The design principles for the app (from this article by the project lead, Jonathon Moore) are beautifully focussed and simple:
Reflect the strength of the form

Create an interface that is always responsive and consistent

Design simple user journeys

Design for the majority (what are the 3 or 4 features that everyone will enjoy?)

Realise we can't do everything

Appreciate simple is best
These are principles that can and should apply to the design of pretty much everything.
Strength of the form (of content)

It struck me that in all reviews of apps like these, much attention is given to the surface features of the software, but the content is largely ignored. It's typical feature-itis, and ignores the user's experience of a thing. The entire reason for someone using this app is to read the Guardian, and let's be fair, reading a printed broadsheet (or even a Berliner) in almost any situation is rarely a comfortable experience. But you put up with it, it's worth it for the content, and after a while the medium of crumpled, flapping paper tends to fade away. To do the same (or better) in an app requires a deep understanding of what the content is and how people regard it.
"But to me it was always about how to capture the essence of the print experience and translate that into forms and behaviours that felt right on the iPad." Mark Porter
I know from experience of developing websites that content is often regarded as the 'word filler', viewed as the own-brand mystery sauce to be poured into the shell of the app, not really to be considered as an aspect of the design itself. This is a massive mistake.
Browsing the printed Guardian you see articles from a broad range of subjects, short snippets of fact here and there, and huge page-spanning features and editorials. Newspapers are varied. News websites, even the Guardian's, are rather more uniform. The pressures of news-now, of getting the story 'up there' before anyone else changes the style and format of journalism. There seems to be less room for editorial and analysis - a story is happening now, and this is how it is, …but what does it mean? Most of that type of content remains in the printed paper.
"When we look at the pages of a printed newspaper we take in a range of stories at once. Some are big, some small; some are obviously more important than others. The decisions about space, position and treatment are the product of the experience and values of the editors, and when you buy a printed newspaper you're not just buying the words and pictures, you're also buying those values and judgments." Mark Porter
Bringing that to an app requires a solid understanding of how it works in the paper - how to signal to the reader the relative importance and scale of an article. Is it news reporting? Is it opinion? Is it editorial? Analysis? In any paper it's the typography and layout of the page that gives you this information.
"I worked closely with Barry Ainslie, our Art director for Sport, to define a range of typeface styles that suited our headlines from print. We defined the minimum required and slowly built them out as the app developed. It's the first time we've used our (extensive) range of fonts to such effect in any of our digital products." Andy Brockie
That extensive range of fonts is the Guardian's own typeface, Guardian Egyptian by Christian Schwartz. It has over 200 fonts.
It's quite clear from reading the app that a great deal of thought and effort has gone into the typography, making it work perfectly on the iPad (which isn't a perfect medium for great typography in itself). Looking through the images detailing the design process shows just how many iterations of type and layout were tried. I must admit to feeling a bit envious of them to have such time and resources to spend on it.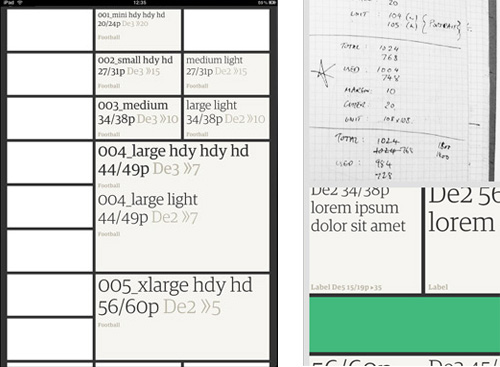 The details of the typography are often subtle - body text is perfectly readable, sidebars with links to related articles don't intrude, colours are carefully used to illuminate interactive elements and bring variety to front pages, and headline styles change depending on the type of article. Most articles get a regular weight headline, so that when you get to one with a lighter weight, you know it's a different kind of content, comment, editorial, obituaries and so on. Features and very long articles get a big screen-filling photo with text overlaid on it, with the article starting below.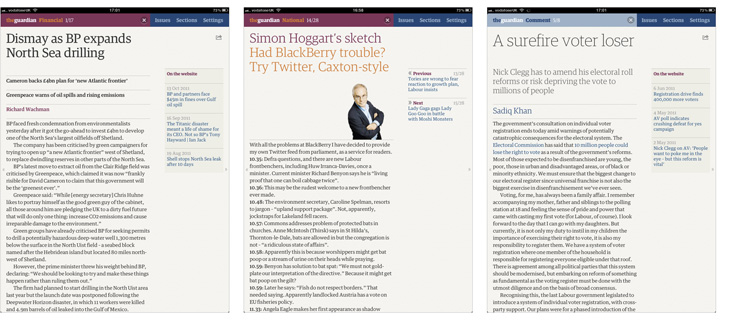 It all creates a beautiful effect, inviting you into the content, and letting you read it without intrusion or obstruction.
The treatment of adverts is interesting, and welcome. They do exist in the app, but are restricted to interstitials and section front pages. So by design, while reading an article you don't see adverts. By design! No hacks, no reformatters, no plugins, no extra services, this is how the content is presented, by the Guardian. Only a few other news apps (like the Channel 4 News one) do anything similar.
Strength of the form (of device)

The iPad is a determinedly multifunctional thing, but it relies on the two universal gestures we can do with our fingers, the stroke and the tap. Stroke vertically to scroll, horizontally to swipe. Stroke with more than one finger - more functions. Tap to select, to activate things and to type. Tap and hold for a contextual functions. But how to design and build an app that responds to these things in a natural way? Apple apps provide clues, but obviously didn't solve all the problems - there never was an Apple app with loads of content that updates frequently, unless you count the browser itself. But that web/app debate is a whole other kettle of worms, and I'm not going there.
The Guardian app solves this simply, in a way that we've come to learn feels natural for the device. There are very few interactions possible; Text scrolls vertically, and you swipe sideways to change articles or sections. You can tap on links to other articles and sections. There are a couple of settings and you can share some articles, but that's it. Which leads to:
We can't do everything
What's interesting is what's missing. There's no double-tap to expand the text. You can't tap and hold to select (and copy) text. Many articles can't be shared - only the ones that are also on the website can be. There's no pinch zoom. Navigation is pared-down to just a few common functions and links.
There's no option to have larger text sizes, accessibility support (such as VoiceOver) is OK, but fails on the front pages (where it reads out the ID for that type of headline).
Some of these things could certainly be added, and the accessibility could be improved, but I know from experience that the desire to get all features into the shipped product usually leads to the product not shipping at all. This is version one of an exceptionally solid app, and I'm glad they've polished it as they have. They may not be able to do everything, but what they've done is very well done.
Design for the majority
And this leads nicely onto the features the app does have. I strongly suspect it's aimed at readers of the paper who are looking for something more convenient than the print edition but find the website content lacking and maybe the small form-factor of the phone apps constraining, i.e., commuters. Commuters on trains, specifically. Phone signal on trains is notoriously variable, and train operators often charge stupid money for Wi-Fi, even when it works, so the Guardian app pre-downloads its content in the background in the very, very early morning.
But aha, you say, what if something newsworthy happens at 7AM? The app is out of date! Martin Belam nails it:
"To me, that is like arguing that there is no point the BBC broadcasting the Today programme or putting Newsnight on iPlayer, because the news might be "out of date" the instant the programme is finished." Martin Belam
To my mind that's where newspapers still have a unique and valuable offering. You can get live feeds of news from multiple sources, but it's newspapers, books and documentaries that (on their different timescales) tie the stories together and provide context and meaning. As a result it actually doesn't matter if a newspaper is a little out of date, provided the journalists have done their jobs properly.
I suspect that the majority of the app's users want a better, more convenient newspaper, not a prettier newsfeed. It sounds like that's what the Guardian thinks they want, too. I know I do.
Design simple journeys
Printed newspapers offer very simple user journeys. There are articles on pages, and the paper is divided into broad subject categories, as sections, and you simply flip through them, stopping to read whatever catches your eye. The app uses the same scheme, but also creates a front page for each section. The design of a front page like this isn't a trivial matter, and it's particularly interesting the technology the Guardian uses to build these from the content of the newspaper automatically. When I read about it I was amazed at what they'd done.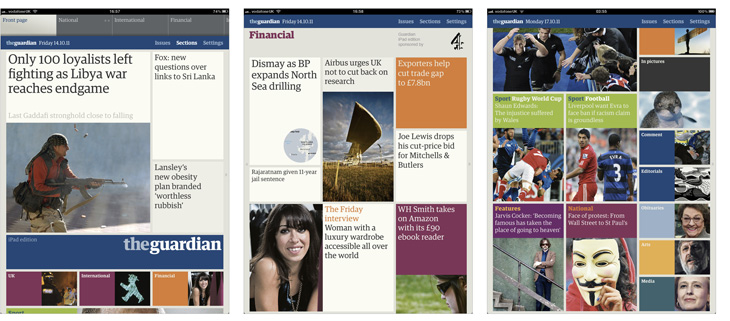 "This was to be the world's most beautiful, elegant, interpretation of the print experience - with a few digital twists. It was also to be tied intelligently into our print production systems. That was big task – a task that we underestimated. From get-go." Jonathon Moore
That's an enormous task, and I bet immensely satisfying to work on. Looking again at the design evolution Andy Brockie presents, I wonder how the system works out where to put everything. I'm slightly relieved that there is some human input to fine tune things, because if all of that was automatically generated we'd better get ready for welcoming our new robotic overlords.
"Unlike the iPhone and Android apps, which are built on feeds from the website, this one actually recycles the already-formatted newspaper pages. A script analyses the InDesign files from the printed paper and uses various parameters (page number, physical area and position that a story occupies, headline size, image size etc) to assign a value to the story. The content is then automatically rebuilt according to those values in a new InDesign template for the app." Mark Porter
And then from InDesign to HTML. Automagically. That's the future right there.
Appreciate simple is best
The simplicity and straightforwardness of the Guardian app is (like its iPhone version before it) going to stand for quite a while as the acme of how these things should be done. It's also a good reminder that simplicity is actually quite hard.
A note on the business model
Much has been said (by oh so many people) claiming that 'print is dead' and that newspapers are whipping a dead horse of a business model. If you look at the distribution of printed newspapers people pay for with money, vs. the assumed-free access to news on websites, you'd be right. There's more to the story than that though. As I pointed out, there's a special type of content that newspapers have, and despite everything, not much of that content is actually available online. The few newspapers that have made a success of paywalls, such as the Financial Times, do put their analytical and editorial content online, and it shows that plenty of people are willing to pay for it.
For a more general audience the received wisdom has been that people are highly resistant to paying for news, and the Guardian's own survey showed that many people are. However, not all are, and many people (I include myself in this) actually want to if it means getting a higher quality product. I can't put it better than Martin Belam, again:
"It strikes me that it is considered quite normal for car manufacturers to have a range of products that are designed and priced to suit different sectors of the market. When a news provider does it, from some sections of the web community there is an almost instant knee-jerk reaction that this proves news organisations "don't get" digital.
Just because you can have an always on app that crams in updates and breathlessly fast breaking news from live blogs, doesn't necessarily mean that you have to." Martin Belam
There's no doubt that the business models of delivering news to people are changing, but it's quite clear that people still want news, and people still want journalism. I doubt the constantly-updating feeds of largely analysis-free news updates will provide much of a business model to anyone (except in aggregate) but actual journalism, that is most definitely worth something. Whether this app is what nails it we don't know yet, but I think it's got a damn good chance at making that breakthrough.