Coudal (I think) linked to this the other day. It's a collection of designs for dazzle camouflage applied to ships during the First and Second World War to confuse the silhouette of the ship and make it less likely to be targetted by enemy subs. I got a few silhouette images (from this rather odd and boastful page) and put them next to some of the designs, and you can see why the technique gained a lot of support. The designs would at least make it hard to identify what kind of ship it is, which might help if everyone did it…

So yes, that raises the question of effectiveness. I imagine in full sun it would be quite good - literally dazzling the eye, but in an overcast, at dawn or dusk, the ship would still be silhouetted quite clearly against the sky. So what were the results? From the site:
Did it work? Dazzle and the convoy system were implemented about the same time, so it is hard to say. However, crews on dazzle ships were very proud of the bedazzled camouflage. It was definitely a morale booster. The British and the Americans fully adopted dazzle because at the time they found it to be effective and inexpensive.RISD
Tests should be done! Still, however well they worked, they're pretty fabulous. More ships should be painted like this, just, you know, because.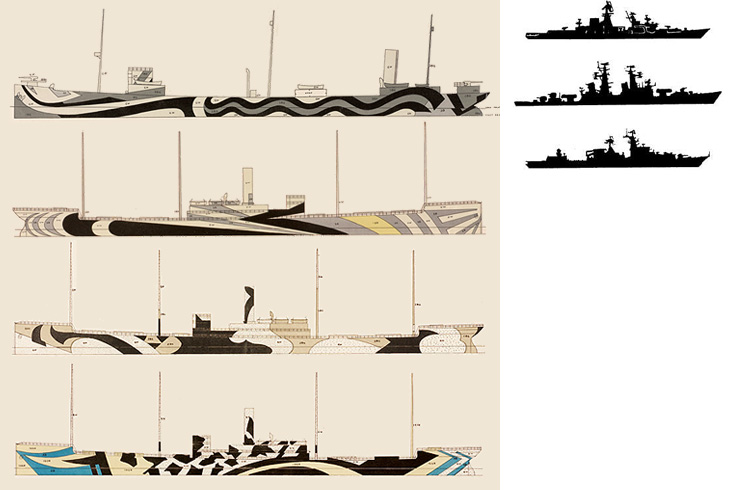 Annoyingly, the RISD only has these tiny images, and I can't find anywhere to buy prints either. There is, however, a poster from Transport for London advertising the Imperial War Museum that shows an illustration of a freshly bedazzled warship, here.