I love projects like this, a Flickr group purely for Royal Mail postboxes identified by postcode. There are currently 5679 photos in the group, so is getting to be a pretty good catalogue of the postboxes in the UK - though with 115,000 in total there's still a way to go. One of the first ones I clicked was pretty close to where I'm from, and lo, a quick search reveals the one very close to where I grew up. Ah, memories.
One of the interesting things about all these postboxes is the variety in the emblems of the reigning monarch - from Victoria to Elizabeth, they range from the florid and calligraphic to the frankly rather austere. Naturally, I've had a play around recreating some of the emblems, below. I wonder at the unnumbered George ones though; I'd guess they must be from during the Second World War, or directly afterwards - they suggest the Austerity period to me, but why no number? The extra metal and work required would be minimal, after all. As for the other later ones, the lettering looks to be inspired by Caslon types, though with plenty of variation from the hand-carved moulds, which has given them various profile styles from soft to sharp-edged, strengthening and highlighting the symbols - a kind of 3D hinting, if you like. I hope the effect was intentional, as it's rather nice.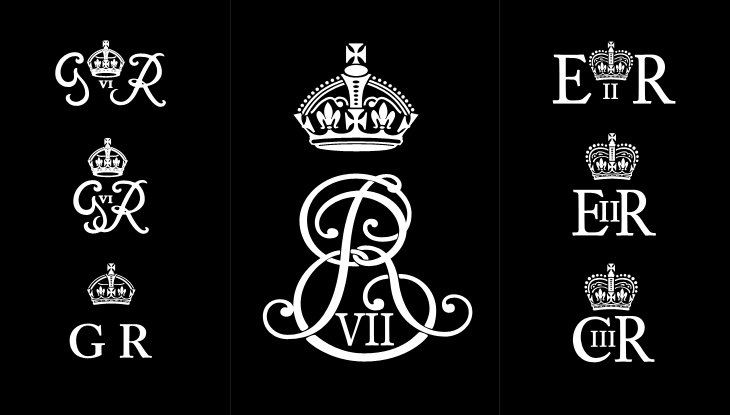 Some of the emblems - which I rather freely recreated rather than tracing them accurately. Show here are the rare Edward VII, variants on George VI, Elizabeth II and my very own wild speculation at Charles III (if that is indeed what he takes as his regnal name).
Perhaps controversially, I also had a bit of a play at creating a symbol for Prince Charles when (or if?) he becomes king. He may choose to reign as George VII, though from a design point of view I hope not - if he keeps his current first name he can have that 'III' fitting into the counter of the C, which I rather like the look of.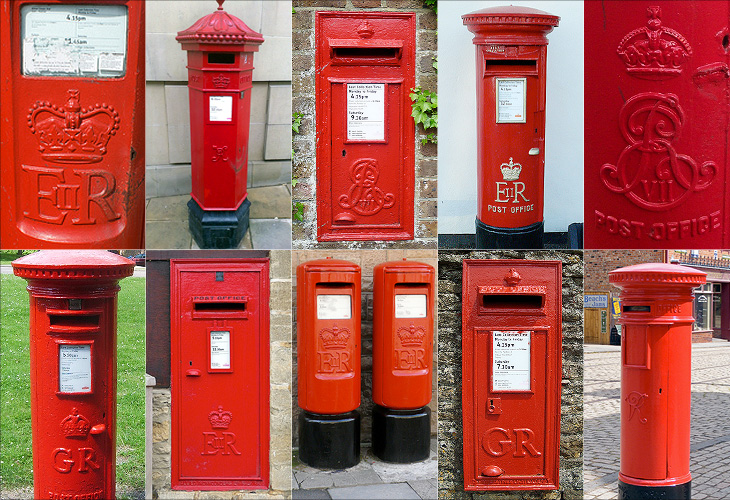 Some details of photos from the set. Clockwise from top, they are Ponthir NP18 123, Edinburgh EH1 585, Haywards Heath RH17 79, Garstang Road PR3 215, Whitley Bay NE26 294, Beamish DH9, Hawkesbury Upton GL9 213, Lancaster LA1 122, Northleach GL54 244, Potters Bar EN6 1NR