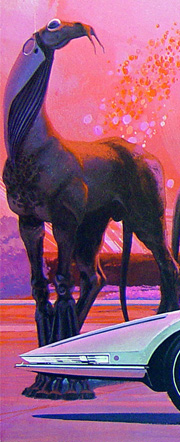 In the future, we will all have very low, flat cars, road signs will be hard to read, we will have genetically modified pets and will build large industrial entertainment complexes in areas of astounding natural beauty. That's the future according to these amazing 1960s illustrations from United States Steel International, by Syd Mead*. Naturally, the implication is that we will be using lots and lots of steel, and will continue to use it to make sleek, shiny cars.
It's strange how these pictures remind me of a book I had at primary school (I was about 7) which showed two possible futures. One was positively pastoral, with blue skies, happy people cycling along clean white paths through a garden city. The other showed what would happen if we didn't reduce our energy dependency (apparently), and showed gigantic skyscrapers looming against brown, smoggy skies, with traffic jams and people wearing gas masks. They were both illustrated in an almost identical style to these retro futurist ones, and showed almost the same subjects - they could have been taken directly from this series.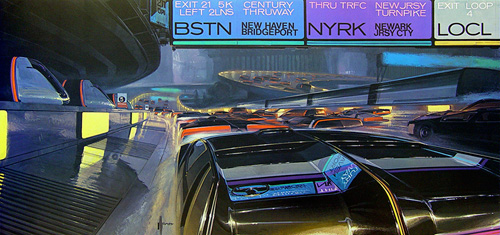 The lettering on the signs reminds me of the
information screens from 2001
.